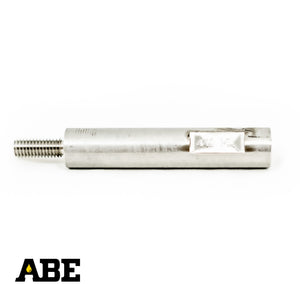 Seamer shaft increments are used to adjust the height of your seamer to accommodate various can sizes. 
Please Note: Some variants of this item may experience a lead time of up to six weeks. 
Please Note: 4 of these are required for a height changeover.
Please Note: Some can sizes may require additional parts for a height changeover. Please contact us if you have any questions.
Please Note: If your canning line was purchased prior to December of 2018 your canning line may not be compatible with these shaft increments. If so you may require 100-121561. The easiest way to tell if your seamer shafts are compatible is to check if your thread pitch is fine or coarse. If the pitch is fine you will require a different base shaft. 
8 oz Sleek/ 6.8 oz Slim: 100-121564
8 oz Slim/375 ML: 100-121567
330 ML: 100-121565
12 oz/355 ML: 100-121566
250 ML Slim: 100-121568
330 ML Sleek: 100-121569
440 ML: 100-121570
12 oz/355 ML Sleek: 100-121571
300 ML Slim: 100-121572
16 oz: 100-121573
470 ML: 100-121574
500 ML: 100-121575
530 ML: 100-121576
19.2oz/568ML: 100-121577
---
We Also Recommend