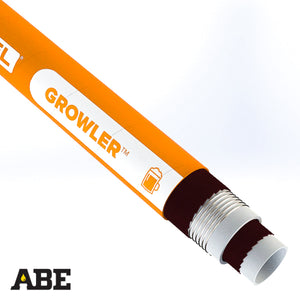 Brewers Hose
Priced by the foot, 50' Minimum Order Length, 100' Max Length for Single Hose.
Hose ends are not included. Please see 100-123158 and 100-123157 or 100-123152 and 210-500602 for tri-clamps adapter solutions.
"GROWLER™ brewery hose is a heavy-duty hose formulated for the suction and delivery of beer, wine, alcohol, and soft drinks. The GROWLER™ hose has a white, smooth BIIR (butyl) rubber tube to ensure food quality and is odorless and does not alter taste. Its high working temperature allows for the sterilization of the hose with
steam at 230F for 30 minutes. Meets FDA title 21 art.177.2600(e) for liquid foods, BfR, ADI free, CE1935/2004."
Part Number: 100-123500
---
We Also Recommend